Blendermada materials
Last update: 17.02.2018
Description: This pack is a port of Blendermada shader library. This library contains shaders and materials for Cycles render in Blender. The current pack contains all these shaders and materials (up to 17.02.2018) converted to Sycles render for Softimage. The conversion was made by using GES import/export tool.
Download: Library at 17.02.2018
How to use: Install as usual *.xsirtcompounds. All new compounds will be available at the Cycles - Compounds - Blendermada category.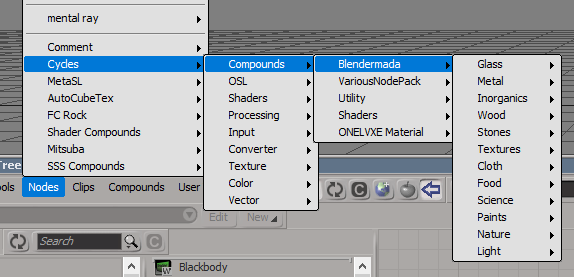 Renders:
| | |
| --- | --- |
| Cloth / Checked Cloth | |
| Cloth / Felt | |
| Cloth / Jeans | |
| Cloth / Leather White | |
| Cloth / Leather | |
| Cloth / Mosquito Net | |
| Cloth / Rough Leather | |
| Cloth / Satin | |
| Cloth / Towel Surface | |
| Cloth / Transparent Satin | |
| Food / Chocolate | |
| Food / Chocolate02 | |
| Food / Lolipop | |
| Food / Tomat | |
| Glass / Abstract Glass | |
| Glass / Cracked Glass | |
| Glass / Dispersion | |
| Glass / Glass | |
| Inorganics / Plastic | |
| Inorganics / Asphalt | |
| Inorganics / Carbon Fiber | |
| Inorganics / Ceramic | |
| Inorganics / Clay Resin | |
| Inorganics / Ikea Plastic | |
| Inorganics / Lego Plastic | |
| Inorganics / PBR Dielectric | |
| Inorganics / Polystyrene | |
| Inorganics / Rubber | |
| Light / Green LED | |
| Light / LED Light | |
| Metal / Anodized Metal | |
| Metal / Brass | |
| Metal / Bronze | |
| Metal / Bronze02 | |
| Metal / Brushed Aluminium | |
| Metal / Brushed Steel | |
| Metal / Car Paint | |
| Metal / Chrome | |
| Metal / Cooper | |
| Metal / Galvanized Metal | |
| Metal / Gold | |
| Metal / PBR Metallic | |
| Metal / Stained Metal | |
| Metal / Steampunk Copper | |
| Nature / Good Snow | |
| Nature / Magma | |
| Nature / Ocean | |
| Nature / Orange Rind | |
| Nature / Pearl | |
| Nature / Sand | |
| Nature / Sand02 | |
| Nature / Sands | |
| Nature / Skin | |
| Nature / Snow | |
| Nature / Water | |
| Nature / Water02 | |
| Nature / Wax | |
| Paints / Glossy Paint | |
| Paints / Palette | |
| Paints / Simple Metallic Paint | |
| Science / Crack and Glow | |
| Science / Ghost | |
| Science / Holographic | |
| Science / Laseray | |
| Science / Phone Screen | |
| Stones / Bricks | |
| Stones / Cacholong | |
| Stones / Concrete | |
| Stones / Diamond | |
| Stones / Granite | |
| Stones / Granite02 | |
| Stones / Mossy Stone | |
| Stones / Ruby | |
| Stones / Smooth Concrete | |
| Stones / Stone | |
| Stones / Wall Texture Coating | |
| Stones / White Marble | |
| Textures / Camouflage | |
| Textures / Damascus | |
| Textures / Tile | |
| Wood / Beech Wood | |
| Wood / Moss Covered Floor | |